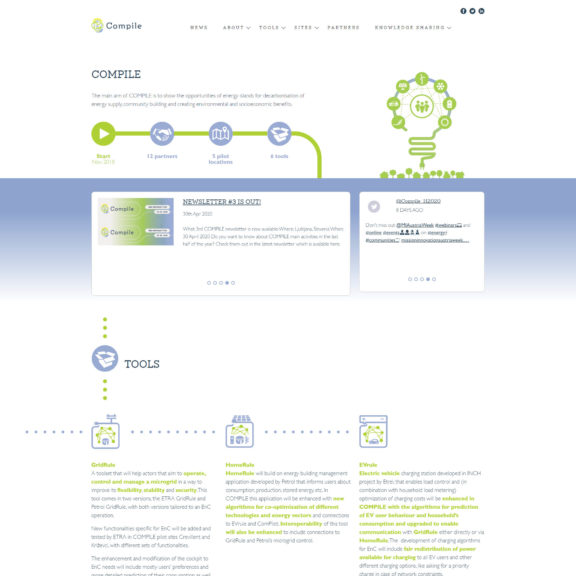 compile-project.eu
The main aim of COMPILE is to show the opportunities of energy islands for decarbonisation of energy supply, community building and creating environmental and socioeconomic benefits.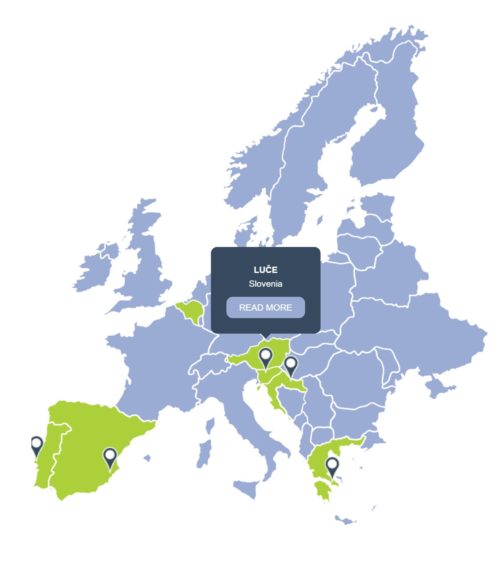 Transformation
Wireframe
Webpage design
Animated elements: icons, animations
Reports, events, news subscription
Webpage development
How did we spruce up the page
We wanted our front page to contain the locations (interactive map) where the project is already being implemented and the partners involved in it to reduce the complexity of the project itself. Special attention was also given to the tools used for easier monitoring and planning of implemented integrations. As Compile is a fast-growing project in which many events and presentations are taking place, we have also integrated news and tweets.

To make the site more pleasing, we used animations that work on all browsers without the need for additional plugins. Parts of the website are displayed in real-time and certain parts of the icons are animated. To highlight the global significance of the project, our video experts have created an animation showing how the project will spread to countries outside Europe.

Animation - LUČE
In the Compile project, we also take care of video materials of pilot locations and design printed matters (penguins, flags, brochures …)
We also take care of animated presentations of the project. You can see an example of the animation below.
Customer opinion
Our cooperation with IDEAZ web agency started four years ago and we are happy that our business relationship strengthens with each newly implemented project – the website and the overall corporate graphic image of COMPILE project is an excellent example. IDEAZ is a partner that fulfills the wishes of even the most demanding client with its enthusiasm, new ideas, excellent proposals, and on-schedule execution. They stand firmly by the side of the client even in the most demanding business environments.
Team
Bear Nika
Project Manager
Owl Dea
Design
Badger Andrej
Development