Copywriting
Our daytoday online consists of looking at countless ads at every turn, but only a few really catch your eye and are etched in your memory. Did any of them pop into your mind? Think about what's so compelling about it, that it surpassed all the competition and was the first to sneak into your consciousness? Were you convinced by a beautiful photo, well-thought-out graphics, or maybe perfectly written text next to the graphics, even if it contains only three words?
Those three words that made the ad stand out are the work of a copywriter, a person that writes custom content for marketing or advertising purposes, such as texts on or next to advertisements, on websites (home page, about us, services …) blogs, e-mails, posts on social networks …
I know how to speak Slovenian, why do I need a copywriter?
Attractive visuals are the ones that catch your eye on the street, but an excellent accompanying text is the one that makes sure your ad doesn+t escape your memory long after you've first seen it. Words are the ones that need to convince the customer that your brand is what they are looking for or need in life. Photos or graphic templates in themselves are also not always not wholly understandable. If you saw a billboard with a photo of a car by the roadside, without accompanying text, would you know that it is an advertisement for a local service provider intended for your car? Although this is an extreme case, you need to have a better understanding of why words are so important. A good combination of visuals with informative but friendly and understandable text leads to effective sales and increases your influence in the industry.
Great copywriting is a skill you can learn, but it takes a lot of time and willpower, which you probably don't have in abundance, as you need your results today or at least over the next weekend, right? If you are good with word-stacking yourself anyway, make sure your texts include the following.
Conversational writing that includes the customer. The first sentence must convince the customer that he wants to read the second, the second must convince him to start reading the third, and so on. The same principle applies to each individual paragraph. If your test is boring, it will quickly turn the customer's attention elsewhere.

Write concisely and without "redundant" words that you would use just to make the text longer. Use the words that give weight and meaning. Leave everything you can exempt.

Use varied and rich descriptive words. For example, instead of writing that your product is very good, use the word excellent. Would you buy a product that is very good or excellent?

Provide readers with credible data and accurate information. Write down the advantages of your product, explain why it will improve or make their life easier for the customer.

Write convincingly. Your goal is to make the ad reader your regular customer. You can encourage him to take the next step with only a word. For example, if your goal is for the reader to make an online purchase by clicking the "buy" button, you can ask them directly to click. Example: Click "buy" to make your dream a reality. 
When writing a good sales text it is extremely important that you know your target audience well so that you can design it perfectly. The text aimed at male population who are passionate about for example about cars and motors would be formulated completely differently from the text that would be used for young mothers in the same case. Follow the rule to always address an individual personally instead as a group of people. When you focus on one person the whole conversation becomes more personal which is giving the potential customer the impression that you understand him, that his opinion matters and you want to help him and connect with him.
Countless different platforms, can I use the same text?
If you are your own marketing team then you like to "recycle" the written text for a certain message on a social network or website and use it in a Facebook post, later in an Instagram story, maybe also on LinkedIn and the website, right? This ensures that your business or brand is present on all channels, and saves you the time it would take to customize the text for each site. Although the tactic is effective in the short term, it can only hurt you in the long run. Each web platform works differently, so when writing texts for social networks, blogs, websites, or advertising messages, we must take into account, for example, different appropriate lengths of text, adapted way of presenting information, writing titles, using attractive phrases … Text that works well on Facebook is hard to use on Twitter, where you only have 140 characters available. Also, you are not accompanied by exactly the same audience on different platforms, so you need to adapt your communication accordingly.
Example: LinkedIn has slightly more male users, and most users are over 30 years old. Instagram, on the other hand, has more female users, and the demographic age group is under 30 years of age. It is also very likely that individuals who liked your Facebook page will not follow you on Twitter and vice versa. We can conclude from the latter that your address to LinkedIn users cannot be the same as the one you use on Instagram or Youtube. Even if you only shorten the text you used on Facebook and use it on Instagram, users may notice your actions. At best, they will conclude that you lack time for all activities, lazy, or even annoying with your posts.
A good example of adapting the text are the posts of the Slovenian company JUB. Communicating on a website is completely different from communicating on social networks, where communication is easier but still product-oriented. When the world was plagued by a coronavirus pandemic, communication on posts was adapted to Facebook, Instagram, LinkedIn, and the website. Below is an example of a post on the topic of self-isolation on Facebook and Instagram. On Facebook, they carry out communication aimed at a wider audience as well as directly to their "partners", while on Instagram, which is a more visually oriented medium, colors are intertwined with everyday life, of which the virus has also become a part.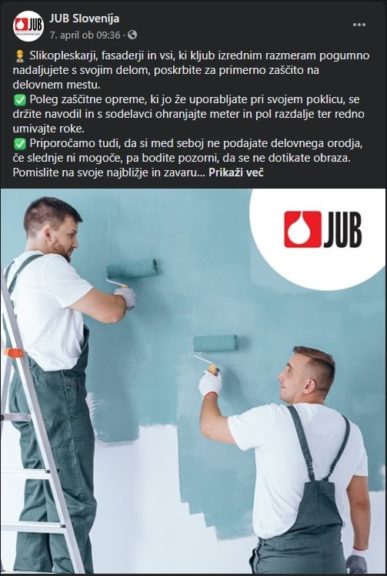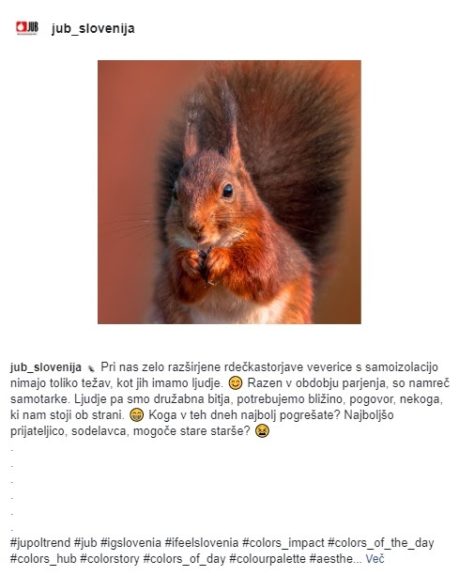 Copywriting and SEO optimization
The words, phrases, and texts you use on the page are also extremely important for SEO optimization of your website. Google wants to offer its users the best results in the top places, so you need to customize your site to be the best in your niche. The content you post on the website needs to be perfectly written, and it needs to target your respective audience and not the general public.
In order for your website to rank as high as possible on the Google search engine, you need to make sure that all the texts on the website are nice and easy to read for each individual. We probably do not need to emphasize the fact that the texts must be of good quality and contain accurate information. Before you start writing texts, you need to decide on the topic or keyword under which you want your website to be found. So the first step of SEO optimization is to review the keywords and find the ones you want to rank high on the Google search engine.
Example: If you have an online store that sells heating systems, you will start by choosing words that refer to your sales products. Let's say "underfloor heating", "IR panels" and "electric radiators".
Once you've determined the basic keywords, it's time to transform yourself into your ideal customer and think about how he would search for heating systems on Google. What phrases would you use? What would you type? How would he find you? Also, when choosing keywords, keep in mind that your competition is likely to use the same main keywords, so first, look at how much competition you have for the most popular keywords, and focus on less popular and less competitive keywords to start with. Selected keywords must have a link to their destination. If you used "underfloor heating" as your keyword, the content of your subpage should be about underfloor heating so as not to mislead users.
Writing SEO articles for a website
As we have already written, articles written with selected keywords and with a link to the desired subpage on the website also ensure good SEO optimization. Before tackling the text, think carefully about the purpose of the text, why you are writing it, what will be the main message of the text, what question do you want to answer, who is your target audience, what is it looking for? Based on this, decide which main keyword to focus on when writing the article.
You must then insert the selected keywords into the text in a readable and understandable way. Use the correct form several times, it is also recommended to use it several times in other declensions, phrases, derivatives, and phrases. However, the content must be clear and transparent, so that users who arrive at the article do not leave the page immediately due to poor content, because then the page statistics have poor results, and the subpage is less quality in Google's eyes.
If the content is clearly and simply explained, users will also understand what you are selling, you will answer their question, and they will most likely decide to click on the link in the article / purchase the product sooner. The easiest way to start writing an SEO article is to first write down as many words as possible that relate to your first paragraph and then tackle the second. Once you have written down all the important information, it will be much easier to form the beginning and the end as well.
If you want an individual to read the entire article, make sure the text is as easy to understand as possible. Be aware of the importance of a convincing first sentence and first paragraph. This will weigh the individual whether he wants to continue reading or not. An individual who reads the article to the end will definitely return to your website and become a customer sooner or later. Once you've written the article, take a break and then flip through it a few more times. Remove all incomprehensible parts of the text, make sure that the text is written grammatically correct, and that the article clearly conveys the desired message. Be critical of yourself.
You also put effort into a well-crafted article title. Although finding the perfect address can take a long time, this is crucial if you want an individual to click on yours among all Google results, and it is recommended that the title itself contains the keyword you are targeting.
"It is interesting to experiment in different areas as each new experience broadens the horizons of an individual. However, if you have a business and you are tempted to use well-written texts for marketing purposes, entrust this work to someone with knowledge and experience. Call us (070 773 850) or write to us (info@ideaz.si) and make sure we are the right ones for you."