How do I edit my Google My Business card?
The Google My Business card (GMB) and website optimization are closely related, so we recommend dedicating an hour of your time to filling out the card, which will help you in optimizing your website and achieving better rankings on Google.
Google My Business card is a free tool by Google that allows businesses to manage their online presence and appear in local search results. It presents your business on Google in the form of a business card. Key information such as address, phone number, website, operating hours, customer reviews, and more are displayed.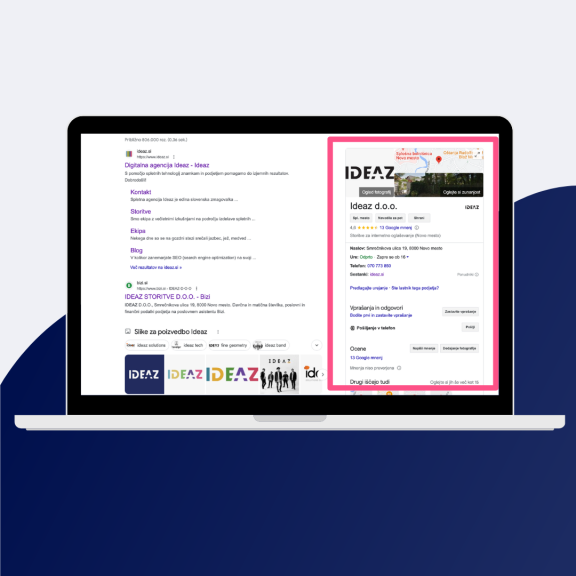 Google My Business Card
The Google My Business card (hereinafter referred to as GMB) is located on the right side of the Google search engine when you are searching on a desktop. It appears as soon as you enter a search string (company name).
If you are searching on mobile devices, the GMB card appears a bit lower. First, Google offers you paid website displays, then you see the GMB card, followed by organic results.
Why is it good to fill out the card
We advise that you fill out the GMB card accurately. Why? This way, you can take full advantage of all the benefits that Google offers for free placement as high as possible. A higher ranking means more traffic to the site, which can be reflected in the success of the company.
Accurate and updated information allows customers and Google to find your business faster and understand what you are dealing with. Also, the user immediately finds important information; phone number, address, working hours, website… By filling out the card, you help Google to better understand what you are dealing with, so your company will be ranked better in the search engine. With the help of the address, it will be easier to display you among the local search results, which increases the visibility of your business at the local level. The card allows your customers to leave comments and ratings based on which potential customers will make decisions. This way, you can contribute to the credibility and trust of your customers.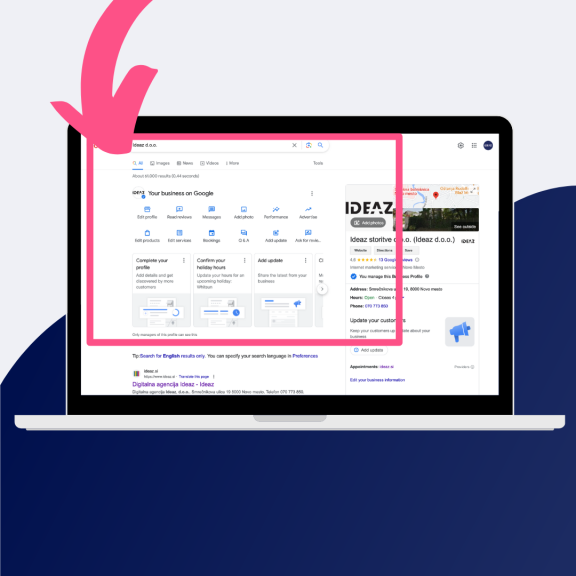 How should I fill in the GMB card?
You can fill out or update the Google My Business card at the GMB link.
Once you are logged in, type the name of your business into Google. Under the search results, a bunch of Google suggestions for completing your GMB card will appear. Click on EDIT PROFILE and first accurately fill out all the required fields.
Fill in all the fields under ABOUT, CONTACT, LOCATION, HOURS, MORE.
Questions, opinions, rates
Individuals can leave you reviews, ratings, and questions on Google. It is your task to respond to everything as quickly as possible.
All of the above also contributes to the credibility of your business, so we suggest that you constantly acquire reviews and ratings. You can ask friends, colleagues, but even better, ask your customers. For example, you can offer them a discount in exchange for a written review. Just keep in mind to ask for a review from customers who will give you a positive rating. ;)
Photos
Photos attract attention and help with the visual presentation of your business. High-quality and appealing photos create a good first impression and contribute to a better perception of your brand.
You can upload photos of products, the exterior and interior of your business premises, your employees, etc. This way, people can easily visualize where you are located and who will greet them upon visit.
Photos that appear in the GMB card can enhance your chances of appearing in search results. Google also considers photos in assessing the relevance and quality of your business.
Events and posts
In the UPDATE tab, you can add upcoming events, offers, and news. The more you enter in the GMB card, the better Google will understand you, so make sure to regularly fill in this part as well.
If you have a new product in your offer, highlight it. If you are planning the opening of a new store, create an event; if you have a new blog post, show it.
If you are not sure how to write a blog according to SEO rules, read our article on SEO rules for the most optimized blog post.